"Annual Events"

Candlelight Memorial Service
Beech Grove Cemetery
May 28, 2005
Last Saturday in May
8:00 PM
The 14th Annual Candle Light Memorial Service will be held at Beech Grove Cemetery on May 28th. This is a undenominational service held in remembrance of our families and friends and in honor of our veterans who are buried there. The service will feature Piper music and singing, special commemorative candle lighting, Honor Guard salute and Echo taps. A reception will follow this service at the cemetery weather permitting. The service and reception are open to the public and we invite you to share this evening with us.
For more information on this event, please contact:
Marlane Carr 304-586-2409
email: marsancarr@aol.com
~~~~~~~~~~~~~~~~~~~~

Town of Eleanor 70th Celebration
Friday, Saturday, Sunday
June 17th, 18th, 19th, 2005
Eleanor Town Park

A 70th Celebration is being planned for the Town of Eleanor. Being one of the "New Deal Projects" built during the depression years of the 1930's, it was felt the town should celebrate it's beginning.
The first families moved into the project on April 1, 1935.
The town has much history to be proud of and it is hoped that younger generations will continue to celebrate the town's place in American history.
If you would like to work on a committee or help with this celebration, please contact Marlane Carr at 304-586-2409.
~~~~~~~~~~~~~~~~~~~~

Putnam County Fair
July 9 thru July 16, 2005
Putnam County Park and Fair Grounds
Route 62
Eleanor, West Virginia

For more information on the fair,
Please call: 304-586-0332

4-H Livestock Exhibits and Sales
Rides - Entertainment - Booths
Demolition Derby - Mud Runs
Children's events daily.

The Putnam County Fair offers much more than can be listed on this page. Plan to attend and support the fair, the youngsters work hard all year with their livestock, show them you appreciate their efforts. To the many volunteers who donate their work and time to make this a fair a success, we say "thank you."
All Putnam County show be proud of this great event.
Visit Putnam County Fair on line:
www.putnamcountyfair-wv.com
~~~~~~~~~~~~~~~~~~~~

Eleanor Arts and Craft Show
November 5, 2005
First Saturday in November
9:00 AM till 4:00 PM
Eleanor Municipal Building - Rooms B & C
-Sponsored by Eleanor Presbyterian Women-
(All previous rules and regulations will continue to apply for this show)

The Tenth Annual Arts and Craft Show will be held the first Saturday in November. This show offers a large variety of quality crafts at affordable prices. We are proud to say we have become one of the better Arts and Craft Shows in Putnam County. All items sold by exhibitors must be handcrafted or handmade by "that" exhibitor. There will be our usual raffle on the Gift Basket. Besides the many crafts, food will be served all day in Room B, you may eat in or carry out.
Admission is a can of food or non-perishable food item.
For more information, please call:
Judy Jeffries at 304-586-4348
Beverly Luikart at 304-586-4312
Plan to attend this popular event, it is just the place to do some Christmas shopping.
~~~~~~~~~~~~~~~~~~~~

Christmas Tree Lighting
(Date not set, check back later)
6:30 PM
Tree lighting - Christmas Carols - Refreshments
At the Red House
Many older residents may remember during the late 30's, a decorated tree on the lawn of the Red House was a tradition. At this beautiful season of the year, we would like for all residents to share in the joy, peace and celebration of this event thus creating a new, but old tradition that will continue for generations to come.
Please, bring your children, friends and neighbors and take part in the program this year.
Contact: Town Hall at 586-2319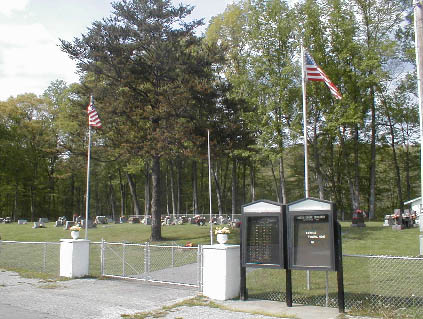 Beech Grove Cemetery
This cemetery is owned and maintained by the Town of Eleanor. The bulletin board on the left lists the names of all veterans buried at this cemetery from the Spanish-American war till present. The Annual Candlelight Memorial Service is held at the cemetery each year, not only to honor the veterans, but all departed friends and family members.
"Gone, but not forgotten."

Last modified on Thursday, March 10, 2005