Welcome
********************
Directions to Eleanor
********************
Early History 1920's-1930's
********************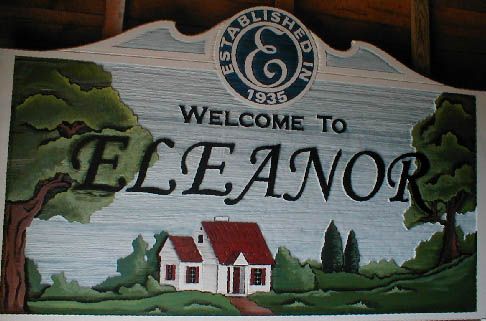 (These wooden signs were designed and made by John DesMeules of Eleanor)

Welcome to Eleanor

Welcome to Eleanor via the web. I hope your visit will be interesting, informative and educational. For those visiting the site who have moved on, may it refresh your memory of the things you hold dear about Eleanor.

********************

Eleanor is unique in that it's different from anything else in the world. It is nestled in a valley of striking beauty, embracing a curve in the kanawha river on one side and a range of low hills on the other. In this picturesque setting, the Federal Relief Administration has laid out a town, one designed for real beauty and practicability at the same time. I do wish everyone might come to Eleanor and see one of the most stupendous and successful accomplishment of the FEDA.
(Taken from an article in the West Virginia Review - December 1934.)

********************

Should you be looking for a home site in Putnam County, you may want to see what Eleanor has to offer. Maybe your interests are in history, by all means, pay us a visit. If you are a tourist just passing through, we invite you to stop and visit awhile. There are several Annual Events listed on this site, maybe you would like to consider attending one of them. You will find the people of Eleanor to be neighborly, courteous and helpful to all visitors.

********************

Directions to Eleanor
Eleanor is located in Putnam County on Route 62 approximately twenty eight miles north of Charleston.
If you are traveling on Interstate 64, take exit 39 at the Winfield interchange. If you are traveling east, make a left turn, if traveling west, make a right . You are now on Route 34 north. Follow route 34 for 5.2 miles, at the stop light, make a right turn. You are now on route 35, drive one mile to the Winfield bridge, cross the bridge and make a left. You will be 0.2 miles of the Eleanor town limit sign.
We look forward to your visit!

Putnam County Information
For information on Attractions, Points of Interest, Lodging, Annual Events and County map, please go to the Links page and click on Putnam County Convention and Visitor's Bureau.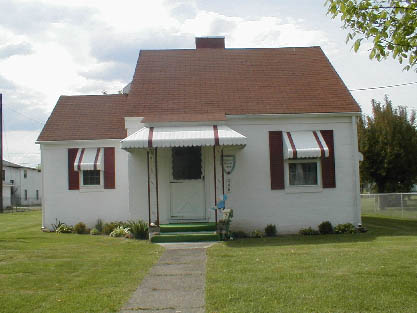 The Beheler House
There were five models of houses at Eleanor, all built for comfort and simple beauty of locally-manufactured cinder blocks.
The Beheler's home, is a small B-1 model on lot 153.

Frank Beheler was happy to be selected as one of the original homesteaders. He attributed his good fortune to the collaborative efforts of the Good Lord and the Roosevelt's. His house was alway well maintained, but has never lost it's original look, making it a an added attraction to the town.

The Beheler home was sold to a local contractor in 2003. The outside remains much the same, but the interior has been remodeled.
The contractor either sold the home or is presently renting it.
********************************


"Early History of the area"

The decision by the federal government to build a third Homestead Community in West Virginia would ultimately bring this area into national prominence.

Before we begin charting the development of the town presently known as Eleanor, perhaps a little background description would be in order.

The Putnam Leader....
in an article dated September 9, 1920, it was reported that Putnam-on-Kanawha had a big day:
Putnam-on-Kanawha, the new town below Red House, was a place of much interest to the people of the County and the Kanawha Valley this week. The Stock Show exhibits were declared by all to be fine, and the managers of the new town have received much praise for the able manner which they got the farmers of the county to bring in their exhibits. The crowds attending on Labor Day was estimated at over three thousand, while the other two days of the Show was some smaller. Quite a number of amusements were indulged in, including aeroplane flights, baseball games, public speaking, dancing, etc. Records of this venture were not located, but a panoramic photograph taken the day of the sale will soon be displayed at town hall.
This tract of land was located on the north side of the Kanawha River, downstream and across from the Putnam County seat of Winfield. The site's development possibilities were noticed in the 1920's, when real estate speculators promoted it as "Putnam-on-Kanawha." As luck would have it, only a few lots were sold in this commercial scheme and the property was later acquired by the federal government.

-Land Owners-

In the 20's and early 30's, there were few houses on this property. One small house situated just back of the present entrance to Eleanor Circle near the hills was occupied by Ed Runyons, a farm laborer. Then upon the knoll near the present Volunteer Fire Department lived the Leander Higginbotham family. A few hundred yards north toward Buffalo Creek lived the M. S. Wandling family, and just up in the field a short distance lived the Wilfred Hills family. An old house situated near the present lower end of Eleanor was torn down about this time. Near where Eleanor's First Baptist Church is presently situated, stood a house occupied by Tick Hill and his wife. Guinns had a filling station located across the road from the present Super America. C.H. King, who was living in the Red House owned a piece of vacant property.
(contains excerpts from an article written by Charles Harper and Forrest Grant)

When the government purchased this land in 1934, these families were either bought out or exchanges of property were made. A store, service station and living quarters combined was built for the Guinns, it was located where the Eleanor Exxon now stands. The house beside Guinn's store was built for Mrs. Higginbotham. C. H. King was given the next piece of property where Super America is now located. The next house was built for the Wandlings. The Wandling family had purchased a large farm on Route 34 and left the town in 1928 but still owned their former property in town. Mr. M. S. Wandling later sold their new house the government built for them to Lloyd Shank for $2,700.00.

Of these families, The Guinns ran their business for several years. The community children liked to visit the store to buy penny candy. C. H. King and his sons built a garage and filling station which they operated for years. In the early years, Mr. King had square dances on the lot beside his station, later, the station became a favorite hangout for the young boys in town. Sue King Jividen, granddaughter of Mr. King is the only close relative still living in Eleanor. A son, John lives in Midway, approximately three miles below Eleanor. Otho Higginbotham, son of Mrs. Leander Higginbotham has lived in Eleanor since the age of eight, Otho turned 90 in July. He has delivered mail on horse back, worked for Honaker's garage and evenually purchased a filling station and garage in Eleanor which he and his son Ronnie operated for many years. Tom Sheridan, grandson of Mrs. Higginbotham now resides in the home the government built for his Grandmother. Estel Wandling, son of the Wandling family returned to Eleanor with his wife Edith after the war. Mr. Wandling served as cemetery caretaker under the Washington Homestead Corporation and the Town government for over 50 years retiring in 1999. Mr. Wandling is now deceased, his presence is truly missed by all in this community.

Although none of these families that remained in Eleanor are considered Original Homesteaders, the fact remains, they were the original land owners or the children there of. They have each make a contribution to the town in their own way, and it is time we recognize them. They are a part of our heritage and our history.

-Estel's Memories-
The children of the town attended a one room school building that was located on the highway, half-way down in the town. The school was named Oak Dale. This school was attended by children from the town and the surrounding area. The school was used until 1928 when it was sold to Mr. Quinn by the Board of Education. Mr. Quinn changed it into a dwelling and service station the same year. Children from the following families attended this school. Wandlings, Higginbothams, Boldens, Grants, Wrights, McDaniels, Ballards, Lieukarts, Fitzsimmons, Scherers, Kings, Jeffries and Edwards. Approximately forty pupils attended in all.
*******
Estel Wandling (a student) served as janitor at the school for three years at $30.00 per year. He deposited the total amount of $90.00 in the Winfield Bank that went broke in 1929. He lost all of his deposit.
*******
In 1926, the road, Route 35, (now Rt. 62) was being graded to be surfaced with gravel from Buffalo to Plymouth. The contractor doing the job was Smith and Bender. Two of the Wandling boys, Ray and Robert were hired to operate two of the Motel T dump trucks on the job.
*******
A large saw mill was still here at this time, located over on the creek bottom at the foot of the hill. Mr. Courtney operated this mill and had all the virgin timber cut in this area in the early 1900's. A rail track was laid up the side of the creek and around the hill sides to carry the logs on rail cars to the mill. All the hills on the east side were cleared off, bare.
*******
A large house was built across the creek over a cold water spring. From here we carried all our drinking water. The men of the town worked together and built a swinging cable foot bridge across the creek for our use when the water was high.
(Information for this article was supplied by LarryWandling as written by his father, Estel Wandling in January 1985.)

*******************************

Un-Official Web Site
This is a personal web site dedicated to the Town of Eleanor and it's people. It was created to educate, inform and reflect on the historical value of this New Deal Community established under the Roosevelt Administration in the1930's.
The Community has been a success since the beginning. This has been achieved by the dedication and hard work of the Homesteaders and the many citizens who have volunteered their time and services during the past 65 years to assure the continued success of this great little town.
As we look to the future, we must never forget our past, for it is through looking back that we appreciate this town's place in American history.

Monthly events and activities are listed as a means to inform the public of their happenings.

"Links to this page are Welcome."
Pictures were taken and are the property of Paul Michael Jones, Webmaster. Writings are from a collection of historical articles and recollection of happenings by older citizens. We believe the contents of this page to be accurate, but as the years pass and the memory fades, we cannot say it is free from error.

All fees connected with this web site are paid by me personally. This includes internet service, Guest Book and Web Site charges.

I am proud of the town's accomplishments and consider it an honor to be a part of this great community. For the people who have visited this site, enjoyed it's contents and signed the Guestbook, I thank you.
Sincerely, Marilyn Jones

Web Master
Paul Michael Jones
=NET-TECHS=
Networking
Custom Built PC
UpGrades and Repairs
email: JonesPaul@Charter.net













Last modified on Wednesday, March 09, 2005